Showcase your listing with its own website and domain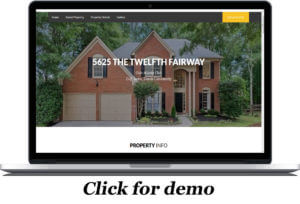 Why rely on the marketplace websites as the only Internet presence for your listings?
Stand out from other agents and show your client their own website showcasing their house and only their house.
When you spend your marketing efforts sending potential buyers to a link on a listing service website, you are also giving them the opportunity to browse other listings instead of focusing solely on your listing.
Impress your buyers AND sellers and gain a competitive edge over other agents!
We will create an elegant and mobile friendly website for your listing with its own unique domain based on the house address. This is a URL you can print on your brochures, share on social media and send to your client so they can share with their friends. Imagine how impressed your client will be when they see their own, exclusive, website showcasing their house instead of just seeing it on a list of other houses!
Imagine this…you have a potential buyer driving by one of your listings, they pull a brochure out of the box and want to learn more about the property…see pictures, maybe a video slideshow…which would they more likely type in their phone's browser?
www.yourrealestateagency.com/agentname/mylistings/listingid1234.htm
or
5625The12th.info
According to the National Association of Realtors:
95% of buyers use the internet to search for homes
88% of buyers view a website as "very useful" when looking for a house
Add an impressive video you can share on social media
Videos are a powerful marketing tool and you have the option of adding a professionally designed video to your Showcase website. We will also provide you with videos formatted for social media sites.
Pricing
Affordably priced at $200 with discounts for multi-listing packages. Optional videos are $50.

Sign up now and receive your first video FREE!
How to get started:

Complete your information to create your account
Upload your picture and logo (if you have them handy)
Select the number of Showcase websites
On an ongoing basis:

Submit the MLS number of your listing
We will send you the Showcase Website (and videos) for approval
The website fee will be deducted from your account
When your account balance gets low, you will receive a notice to login and reload your credit balance
Why JD Marketing Design
JD Marketing Design has been in the Internet/Digital Marketing industry since 2005 and the partners have over 43 years of combined experience in the software/technology/marketing industry. We are a US company with offices in Chattanooga and Atlanta and our approach is to partner with our clients and provide you with tools to enhance and grow your business. We won't confuse you with complicated technical lingo, we just deliver results!
Agent Endorsement
Features
Unique, address based, domain
Elegant, professional design with customized colors
Desktop/tablet/mobile friendly
Floating Agent banner with picture and logo
"Schedule Showing" form
One click call/email agent
Front page picture slider with captions
Detailed pictures
Location map
Detailed property description
Embedded custom video slideshow (optional)
SEO optimized for street, neighborhood, city, area, zip, school district
Included
Domain registration
One year hosting
Website design and creation from your submitted photos/details
Video slideshow and videos formatted for social media (optional)
Monthly traffic reports
If you would like more information, you can contact J. R. Wilson at 404-944-9557 or
Please Complete The Signup Form